Crane Beach
1.
Crane Beach
is considered one of the top ten beaches in the world. It is located on the South Coast line.
Protected by a natural coral reef, provides a perfect location for experienced swimmers, boogie boarders, and surfers. This is the perfect sun bathers beach, and one of the best spots on the island of Barbados to watch daily sunsets!
Sandy Lane Beach
2.
Sandy Lane Beach
is a famous beach that often has celebrities wandering its length. It has very calm waters that are great for swimming.
Mullins Beach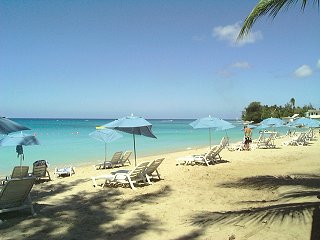 3.
Mullins Beach
is one of the most popular on Barbados. The beach has a snack bar lawn chairs with umbrellas. You also have the option to jetski further out to sea.
Miami Beach
4.
Miami Beach
is a peaceful beach that is somewhat remote.The sea in this area is quite flat but occasional swells add a little excitement to the sea-bathing here. (You should avoid bathing near the cliffs, especially at high tide). For your safety there is also a lifeguard on duty.
Freshwater Bay
5.
Freshwater Bay
The name really says it all - here you will find calm crystal clear waters that are perfect for swimming and snorkeling. The occasional fishing boat and jet ski pass by, with the catamarans heading down the west coast further out to sea.
Accra Beach
6.
Accra Beach
is a good beach to visit on the South Coast line. Accra Beach is one of the loveliest beaches in Barbados. It is located in Hastings, Christ Church. With so much activity along South-West coast there are many restaurants, hotels, and sports bars. So if you are lover of body surfing, boogie boarding, swimming, people watching, or just relax taking in the sun, then Accra Beach is the place for you.
Batts Rock Beach
7.
Batts Rock
lies a few minutes drive along the west coast of Barbados from the Capital of Bridgetown. It's a public beach with a picnic area, changing and shower facilities and children's playground. Good for swimming in calm waters and the rocky areas are fine for safe snorkeling. Batts Rock beach joins up with Paradise beach and
Fitts Village
.
Paradise Beach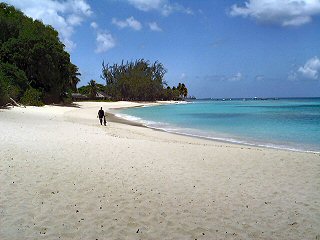 8.
Paradise beach
is quiet and the home of the now closed Cunard Paradise Hotel. Currently the Sandals Resort which was proposed for the site has been delayed. Paradise Beach is generally deserted.