You know how we love to post about food! On your Brazilian vacation, be sure to try some of these dishes.
Brazil is well known for its exotic
and flavorful cuisine.
Feijoada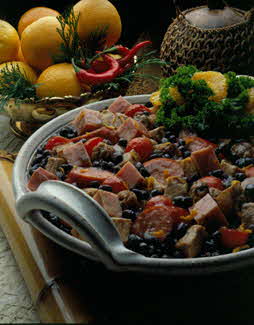 Feijoada is a popular Brazilian stew, made of black beans and pork.
It is Brazil's national dish, and served at almost any restaurant.
Feijoada is also often served with oranges to aid digestion.
Grilled meat, or most commonly grilled steak served in South America.
A Churrascaria is a steak house serving Churrasco, where waiters often come around with skewers, and slice the meat directly onto your plate.
Bobó de camarão
Bobó de camarão is A Brazilian recipe made of shrimp, coconut milk, manioc cream, garlic and onion.
It is very popular, and served in many restaurants.
Be sure to try this dish on your Brazilian adventure, as Brazil has great seafood selections.
PIZZA??
Pizza is in fact a very popular dish and Brazil, and familiar for all of those finicky eaters.
Soon after WWII many Italian immigrants fled to Argentina and Brazil, creating an Italian influence on Brazilian cuisine.