You made it all the way to New Zealand! Now, how do you get to the places you want to see?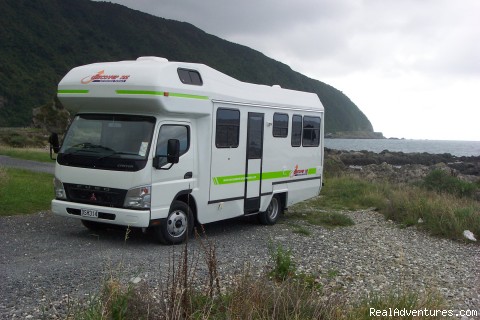 For freedom and convenience, it's hard to beat renting a car. You can get to out-of-the-way spots not particularly served by public transport, pick up and drop off at the airport and easily decide to take a detour on a whim. For a longer, more adventurous expedition, campervans are often the way forward. It's a mode of transport that's arguably bigger in New Zealand than anywhere else in the world, and there are some added advantages over renting a car. The flexibility and freedom remains, but there's also the chance to make substantial savings in terms of accommodation and eating — they come with beds and stoves and most of the time a toilet and shower!
For the non-drivers (or for those who prefer not to get behind the wheel), using buses to go from place to place is a feasible way of traveling around the country. Well, as long as you're not planning on going to horrendously out-of-the-way places. In the cities, buses are frequent and cover most places you'll want to go to, but travelling between destinations requires a bit of organization. Many intercity routes will only be served once or twice a day, so routes will have to be planned around departure times. It's usually the cheapest way to travel, however.
Another popular way of getting around is using specialized backpacker transport networks. These are
private bus services
that work on a hop-on, hop-off pass system. In essence, this means that you buy a pass in advance that goes on a certain route (be it a figure eight around the country, or just a quick jaunt around the East Cape), then book yourself onto the buses as and when you want them.
New Zealand's rather limited
train
network isn't particularly cheap, convenient or wide-reaching. But that's not the point. Getting a train in New Zealand is a fabulous part of the travel experience itself. Realistically, there are three routes, all of which are unbelievably scenic, so it's just a case of sitting back and enjoying the ride.
There aren't many ferry services in New Zealand, although the services from
Auckland
to the islands in the
Hauraki Gulf
are the obvious exceptions. There's also the ferry that nips across the
Foveaux Strait
from
Bluff
to
Oban on Stewart Island
. The great, iconic ferry ride, however, is from
Wellington in the North Island to Picton
in the South Island. On a glorious day, the three-hour crossing of the Cook Strait is a fabulous experience, finishing off in the
Marlborough Sounds
, although conditions can get very choppy on a bad day, so be prepared if you are .
If time is of the essence, then
Air New Zealand
has an extensive domestic airport, while Qantas and Virgin Blue are also muscling in. Smaller airlines such as
Air2There
and
Soundsair
tend to fill in the gaps.