As we say goodbye to India this month we thought what better way is there to say Alavidha ("goodbye in Hindi")than with a meal? Here are some traditional Indian dishes that are sure to make your mouth water.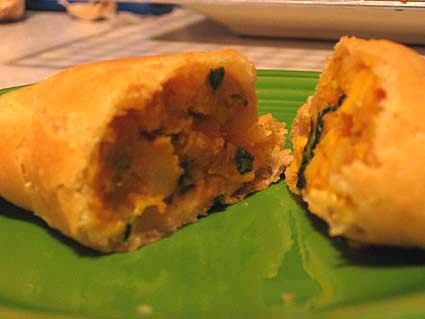 For an appetizer let's start with a
Samosa
. These tasty treats are savory, deep - fried pastries that are filled with spiced potato and pea mixture, or minced lamb. Can be served hot or cold with lemon wedges. Great to get your appetite going for the main course!
Speaking of the main course, how about a flavor-filled
C
hicken Tikka Masala
? This is one of my favorite dishes! Chi
cken tikka masala consists of chunks of chicken marinated in spices and yogurt then baked in a tandoor oven, in a masala ("mixture of spices") sauce. There is no standard recipe for chicken tikka masala; a survey found that of 48 different recipes the only common ingredient was chicken. The sauce usually includes tomato and either cream or coconut cream and various spices. The sauce or chicken pieces (or both) are often colored orange or red with food dyes or natural coloring such as turmeric powder mixed with tomato puree. Chicken Tikka Masala is usually served with hefty amounts of rice and naan bread, but don't fill up because you have to save room for dessert!
For dessert I think a little
Gulab Jamun
is just the thing for you
(at least it is for me!) Gulab Jamun is among India's most popular desserts! This delicious dessert consists of dumplings traditionally made of thickened or reduced milk, soaked in rose flavored sugar syrup. It gets its name from two words: Gulab which means rose (for the rose flavored syrup) and Jamun which is a kind of deep purple colored Indian berry (the cooked dumplings are dark brown in color). Serve Gulab Jamun warm or at room temperature; by itself or topped with ice cream!
Now that your appetite is stimulated, share with us your favorite Indian dish!
We hope you enjoyed learning about India as much as we did. Stay tuned because tomorrow we start a new month and a new COUNTRY OF THE MONTH!!!!!